Hey! We are (from left to right) Robin Jacobi (Secretary), Martijn Kuipers (Head of Media), Paul Sharp (Chair), Monica Baptista (Treasurer) and Charly Walther (External Affairs Officer) and we are the XIVth board of B-Change!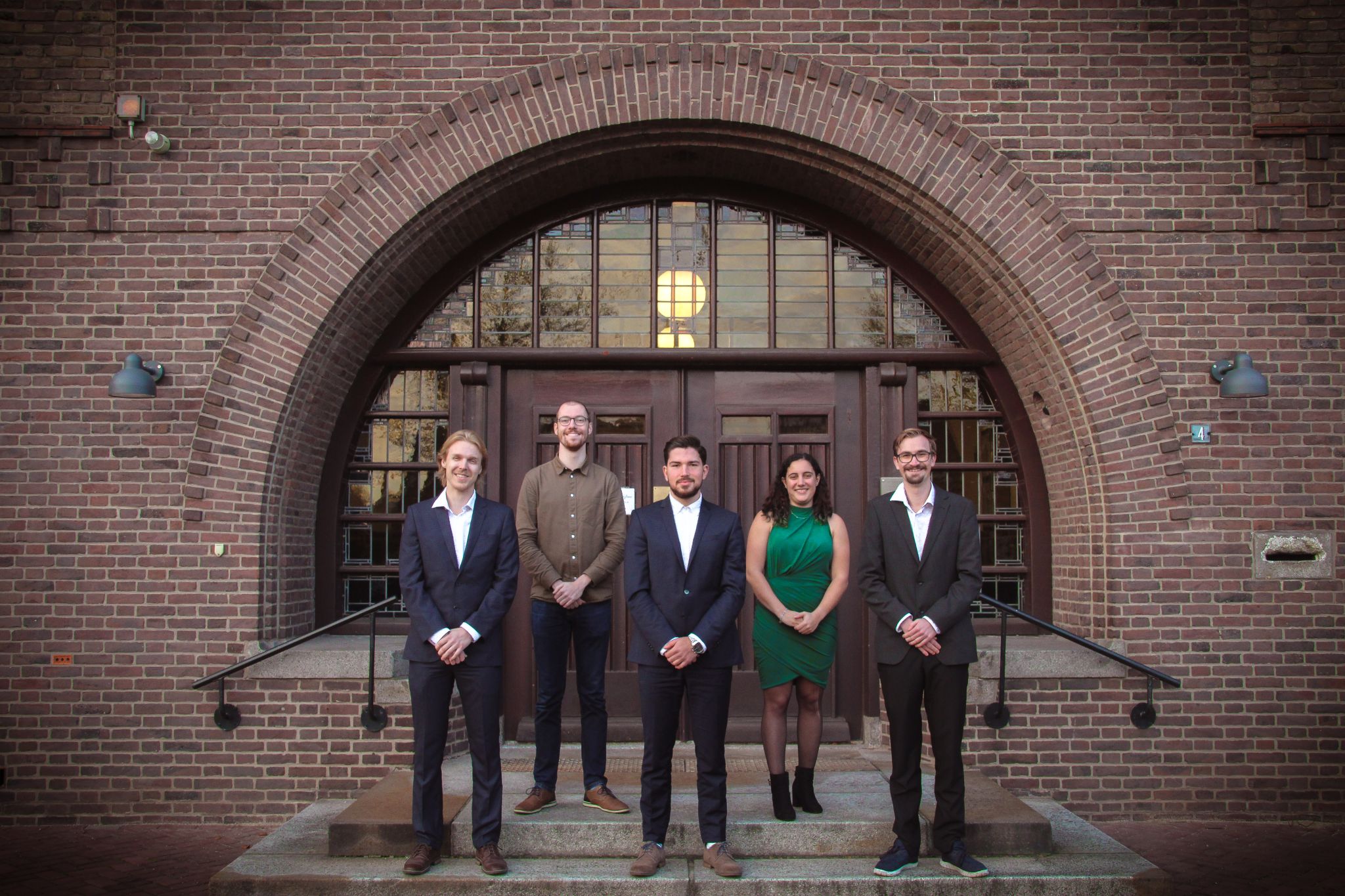 Paul Sharp
I am Paul, the chair of the B-Change board 2021-2022.
Originally I am from Düsseldorf (Germany) but I live in Nijmegen for more than 5 years now.
If you can't find me on campus (where I spend a lot of time) you will either see me in my own barbershop or ice bathing in the Spiegelwaal.
Since 2016 I am working as a student barber and go by the name "Jack de Clipper". During the afternoons or evenings, students get a sharp cut in my kamer while enjoying a hot tea or a cold beer.
Within the first lockdown, I realized that the Wim-Hof Method is really helpful for me to not become too frustrated about the pandemic or other stressors. Ever since I get high on my own supply with a special breathing technique and then going into freezing water.
Moreover, I am really passionate about personal development, especially the topics sport and mindset. You could talk with me for hours about mindfulness, football, or fitness.
I joined the B-Change Board because I am a very social person and wanted to have a good connection with all students and teachers. Further, I wanted to make sure that the other students feel connected, especially during the current pandemic.
Monica Baptista
Hi there, my name is Monica and I am the treasurer of the XIVth board of B-Change. I am from Canada and did my undergrad in Psychology and Neuroscience at the University of Toronto. After graduating I decided that I wanted to study behaviour change, and since that is not a very popular field in Canada, I had to set my sights across the pond. I joined the board because I thought it would be a great way to connect with my peers and because I enjoy planning events and fun activities. My hobbies include sports and travelling. I play football and actually played varsity at UofT and I've been to four continents!
Robin Jacobi
Hi, I'm Robin Jacobi and I'm the secretary of the XIVth board of B-Change. I'm from the north of Germany, near Bremen and have been in Nijmegen for the last 6 years, doing my bachelor's in psychology at Radboud University.
I've had an amazing introduction to Behaviour Change and really wanted to participate in passing this on to the next generation of students, so I applied for the board.
Before my time at the uni I travelled around in North-America and South-East Asia in search of ways to expand my mind, so I've been around for a little while. But following many, many deep conversations with people, I realized my gift for talking and decided to take this path more seriously and actually study what makes people tick. And here we are.
Charly Walther
Hello Everyone :D! My name is Charly Walther and I am the external affairs assessor of the XIV B-Change board. I joined B-Change to connect with my peers and to actively participate and affect events, potential problems and be there for the students in general. Friends would describe me as an extroverted and funny person. My hobbies include cooking, traveling and reading fantasy and science fiction books. As my mum is a flight attendant I was privileged to travel many countries but I am still not done :D. My wish for B-Change in the future is that we will continue to exist and expand in the upcoming decades.
Martijn Kuipers
Hello there! I am Martijn Kuipers and I will be the head of media for the XIV B-Change board! After experiencing such a warm welcome back at the Radboud University after the pandemic I felt inspired to give back and in doing so help make this year the best it can be. After finishing my bachelor of psychology at Radboud, I took some time off to figure out what I wanted after this and I eventually set my sights on the beautiful field of behaviour change and this masters program.
Outside of uni, I am a very musical person that plays both regular and bassguitar. Other than music, I enjoy cooking for other people and good books.